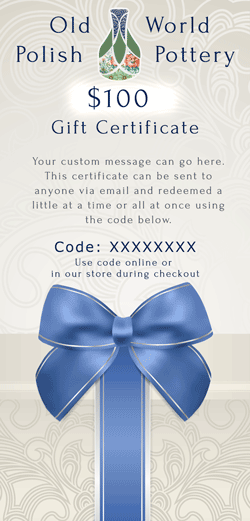 Can't decide on a perfect piece? Let them choose by sending a gift certificate!
(Choose Your Desired Amount Below)
Our gift certificates arrive instantly in your desired recipient's inbox. They can use the unique code in our store or online as soon as they receive it. We track the remaining balance so they can easily reuse the code until completely spent. This is the perfect way to share Polish Pottery with a friend or loved one without having to make the decision about which piece they will enjoy the most. Besides, sharing the Polish Pottery experience involves sharing that feeling you get when you first fall in love with that perfect piece!